FAQ
What makes Tam Hiking Tours unique?

First and foremost our mission is to help you have an unforgettable hiking experience. Moreover, not only are our hikes beautiful and fun, they're educational. When you step onto a trail with us you also step back in time to learn about the area as it once was; who inhabited the area for thousands of years prior to European occupation and how they lived. We also explore general geology and talk a little about local flora and fauna and recent mountain history. Our hikes are mostly playground and partly classroom, creating the perfect hiking opportunity for physical exercise in amazing surroundings, and intellectual enrichment. Additionally, we can personalize hiking tours just for your interests and abilities.
How do I reserve my hike?
We offer tours 4 days a week.
Dates and times are subject to change depending on the season. See our calendar for this month's fixed schedule. Clients may request featured or personalized tours in advance by contacting us directly.
Personalized hikes are created on an individual basis and are subject to your interests, abilities, and timeframe. Contact us to schedule a tour just for you!
Where do the hikes begin?
Prior to our hikes we convene at Illumigarden 35 Corte Madera Ave. in Mill Valley, Ca. 94941 (located next to famous Sweetwater Music Hall). There we enjoy free hot tea and treats as we organize ourselves for the tour. Parking is always an issue in Mill Valley so we want to make sure all client vehicles are placed in long term parking zones prior to our departure.
Some hikes outside of Mill Valley proper will convene at designated trailheads or in long term parking close to the trailhead. Information and directions will be made available in advance of the tour.
How difficult or easy are your hikes?

Predesigned hikes run from 2 -7 miles and often include singletrack trails and significant elevation gain, with the exception of Tennessee Valley Road (mostly level). Therefore, it is suggested hikers be in relatively good shape and wear appropriate shoe wear. Having said this, our hikes are not about racing to the top or personal competition. We invite groups and individuals of all ages to participate in our tours. We will happily adjust predesigned tours to your fitness level or create a tour especially for you and your group.
How many people on a tour?
Most tours are 10 people or less because we feel smaller groups are more conducive to a true local experience. The minimum is 4 people (unless the day is so awesome - client or no client - we're going out). Individuals can select from pre-scheduled group tours or request a custom tour. Last minute inclusions are possible, provided there is room in the tour. Please contact us at least 3 weeks in advance for large group tours.
What about tipping?
Tipping is customary in the U.S. service industry and is always appreciated. It is an important component of guides' compensation. The tip amount is at your discretion, but as a rough guide, please consider giving 10–20%.
Cancellation and Rescheduling
Tam Hiking Tours understands that life is unpredictable. Your payment is fully refundable if you cancel 3 days prior to your scheduled tour (minus a $1 processing charge per person). Cancellations after that are subject to a 50% penalty. If reservations are made within 3 days of the scheduled tour, advance notice of 24 hours is required for a full refund.
Your safety is our first priority so tours are subject to cancellation in extreme weather conditions. Full refunds will be provided.
Under certain circumstances, and on an individual basis, we will reschedule your tour without penalty, even with last minute changes.
What if it's raining or windy or hot?

We hike light rain or shine. However, not all hikers enjoy getting misted, muddy, or baked. Some weather requires a change of venue, perhaps more shade on a hot day or detours away from heavily wooded areas when it's windy. We reserve the right to make last minute changes, if necessary, to insure the safety of our clients.
Tam Hiking Tours is also concerned about road safety. Bay Area freeways are subject to considerable delays due to weather, and accidents can turn a simple commute into a 2-hour ordeal. With this in mind, and depending on the severity of the weather, we offer the option of rescheduling your tour. In case of extreme weather conditions (atmospheric or road) you will receive a full refund.​
Food and Water
Hikers are expected to bring ample water and snacks.
Mill Valley Market is located close to Illumigarden for last minute purchases.
On special request, our tour packages can include prepared box lunches or dining vouchers to our local favorite restaurants.
Clothing and Gear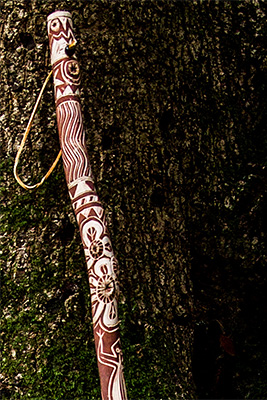 The San Francisco Bay Area is subject to sudden temperature fluctuations. Further, inland temperatures and coastal regions may vary as much as 30 degrees. Please come prepared with extra clothing and solar protection. Sun Screen is recommended. Daypacks and hiking shoes or trail runners are recommended for all tours.
Can I bring my children on a hike?
We enjoy hiking with children on Mt. Tamalpais and surrounding areas. However, only a couple of our featured tours are appropriate for young children. Children ages 13 and older will enjoy our featured hikes, provided they're in good physical shape. We will happily customize hikes for groups and families with children under the age of 13. These hikes can include walking games and interactive learning. We offer a discount for children 13 and under. Please contact us for assistance when trying to determine the best experience for your children or youth group.
Can I bring my dog on a hike?
We are dog-friendly and invite them to join in the fun. However, we share the mountain with other outdoors enthusiasts and an abundance of wildlife - some who might be very interested in your pet. Some of our hikes do not allow dogs, while others require leashing. So long as owners are willing to abide by instructions necessary to insure the safety of other hikers, bikers, and other animals, we welcome all canine travelers - provided they are not aggressive. Please note: We hike in a natural environment; although it has not been our experience, on rare occasion coyotes and other large animals have been known to attack small animals and even kill them. Tam Hiking Tours is not responsible for the safety of your dog. A signed animal waiver is required.
Walking sticks and Daypacks
Walking sticks and daybacks are available upon request for a nominal fee.
Gift Certificates
Gift certificates are available upon request.
Scholarships
Tam Hiking Tours believes that everyone should have the opportunity to hike and learn about Mt. Tamalpais, regardless of financial limitations. This is why we make an effort to accommodate outdoor enthusiasts unable to pay full fare. Please contact us for information about our scholarship program.
Corporate Groups, Schools, Youth Groups and Non-Profits
We invite corporate groups, schools, environmental and non-profits groups, to join in the fun. Allow us to customize an experience just for you. Contact us for special rates.
Smoking
Smoking of any kind is not allowed on our tours. No exceptions.
Hunting tools
The carrying of hunting knives, army knives, mace, guns or other weapons is expressly forbidden on our tours. No exceptions. We reserve the right to examine the contents of a backpack should we feel it necessary.
We reserve the right to refuse business to anyone at the last minute, with a full refund.